Proud History. Bright Future.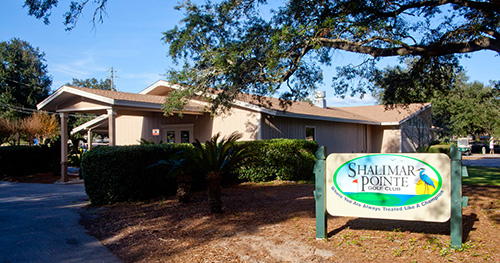 Since 1968, the shores of the Choctawhatchee Bay have been home to Shalimar Pointe Golf Club. Situated amongst the towering trees and natural waterfront of Shalimar, Florida, Shalimar Pointe Golf Club has been delighting local and visiting golfers with its challenging Finger-Dye design. Throughout the years Shalimar Pointe has received praise from both the local and national media. It has hosted U.S. Open Qualifiers, survived hurricanes, and brought smiles to the faces of hundreds of thousands of golfers. The future at Shalimar Pointe appears to be just as bright as its' past.
In November of 2012, Shalimar Pointe was purchased by a group of investors living in or close to the Shalimar Pointe Golf Club. Since that time, the club has been run by a Board of Directors consisting of local residents who are both members and investors in the club. Both members and daily-fee golfers have been quick to notice the improvements at the club and everyone involved is excited about the future of the historic course.
The clubhouse has undergone a complete renovation to include an enhanced pro shop, and bar and grill. Course improvements continue to take place as Shalimar Pointe looks forward to future generations enjoying all that this picturesque location has to offer.
At Shalimar Pointe, you are always treated like a champion. Whether you are a scratch golfer, a weekend duffer, or just a local visitor looking for some good company and warm hospitality, you will always be welcome at Shalimar Pointe Golf Club.